Brian Schar
Staff Sergeant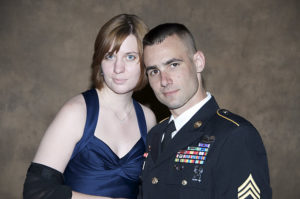 I am applying to Save My Vet for assistance in both for my mobility and for my family. My wife's family car has received several safety recall notices in the past two years that we have owned it. We feel that it is no longer safe and are very concerned about having our two small children in it. We also have a truck, however, it was purchased prior to our children being born. The backseat is not big enough for two car seats. I primarily use it to attend VA appointments since I can fit my wheel chair in it and to continue to attend training classes for my service dog (Dakota) that I recently received to help with my mobility, and, as a companion. I have a huge problem, However,the backseat is too small to comfortably fit Dakota. We are looking for something that is safe and large enough to fit my wife,two growing boys, their car seats, a stroller, a wheelchair, and a 100+ pound dog,as well as being able to handle the harsh Colorado winters and any additional medical gear that I need to bring with me.
In February 2007 I was hit by an I.E.D. and suffered a Traumatic Brain Injury (T.B.I.) however I was not evacuated or treated properly at that time. Seven months later in September (11 days shy of going home) I was hit by another I.E.D. and received yet another T.B.I. I lost both of my legs above the knees and I also received nerve damage in my dominant arm and hand. I have attempted to work in the past since my medical condition that I have received while serving my country and being in multiple Improvised Explosion's,but, It is just too difficult on my legs and body.
My wife runs a small photography business during the summer months in an attempt to offset the bills for our family but it just does not supplement the families bills since she only makes a minuscule amount (a few hundred dollars) annually. Even though I have been rated by the VA at 100%, things are still tight and very hard to actually get by comfortably. We have student loans, a family of 4, and,so many unexpected expenses. The amount that I make on the Veterans administration's compensation for my injuries that I received each month is just not enough or comparable to living expenses and it is starting to prove very difficult to support our family.
I am confident that once we can solve the car situations and buy a vehicle to where our family can travel together in it safely, even just to the store to get groceries, we can pay off student loans, and get the additional unexpected bills paid, then we can finally start to save for our future, and, live without the stress that we are enduring from day to day by just trying to make it. I would like to thank everybody with Save My Vet for assisting other veterans like myself.
I am humbled and forever grateful for any of your help.
Back all Veterans